Septic Information and Repair
Here is information about septic information and repair​ around the lake.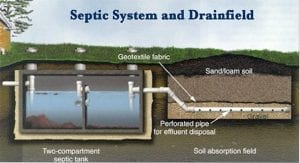 NYS DEC's has a septic tank matching grant program for septic systems in disrepair. They will pay up to 50% of the repair up to $25,000.  Details of the program and application can be found athttps://www.efc.ny.gov/EOH. There has been some confusion about the eligibility criteria, since different regions of the watershed have slightly different criteria. Lake Sagamore is in the Boyd's Corner section, and here are the main eligibility criteria: –  Property must be owner's primary residence; provide copy of deed and driver's license (or other ID indicating primary residence). –  Property must be a one or two family residential
Read More »
Septic systems at lakefront homes may contribute excessive phosphorus to lakes due to site constraints, proximity to the seasonal water table and improper maintenance. Simple measures such as water conservation practices and routine system pump outs (approximately every 3 years) can go a long way to maintaining properly functioning septic systems that will not contribute phosphorus or fecal coliforms to the lake.
Read More »
Septic tanks must be professionally maintained to operate correctly and preserve our environment. They should be emptied every 2 years for year-round resi­dents and every 3 years for part-time residents. Leakage from a poorly maintained or damaged septic system can stimulate weed growth in the Lake and pollute the waters. Many household chemicals, if emptied down drains or toilets, can damage the operating efficiency of septic systems. Paint and varnish removers containing ethanol, toluene and methylene chloride; motor oil additives containing petroleum distillates; household cleansers containing phenylphenol or petroleum naptha are just some of the items that should not be
Read More »